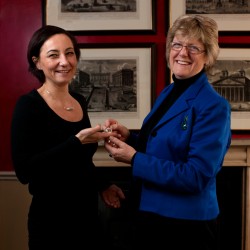 Nurturing Nobels – Dana Centre, 8 March
Why has only one British woman ever won a Nobel Prize for science? Should we do more to encourage women scientists to become leaders? Join Vivienne Parry to discuss, and learn about the MRC's jewellery heirloom scheme for women scientists.
Only 5% of Nobel Laureates are women, Dorothy Hodgkin being the sole British female recipient of a Nobel Prize for science. The past decade has seen a host of initiatives to encourage women scientists, which has given great voice and encouragement to the many brilliant female researchers alive today.
The MRC Clinical Sciences Centre is doing their bit with a series of publications to showcase female researchers and their work across a broad range of scientific disciplines. And they're collaborating with Central Saint Martins College of Art and Design to create bespoke jewellery heirlooms for women scientists. Come and learn about the heirlooms awarded to leading female life scientists in 2011, that tonight will be passed on to tomorrow's leaders.
Meet a host of excellent scientists from the UK, Europe and the USA, who work on diverse programmes in the fields of evolution, epigenetics, neuroscience, psychology and structural biology
Speakers: Broadcaster/writer/presenter, Vivienne Parry, the evening's hostess, will introduce the Medical Research Council's jewellery heirloom scheme. She awards her own heirloom to Liz Murchison, who will talk about contagious cancer and her research on Tasmanian Devils.
Heirloom donors: Sarah-Jayne Blakemore (UCL), Mary Collins (UCL), Dame Sally Davies (CMO), Helen Fisher (Rutgers University), Dame Louise Johnson (University of Oxford), Brenda Maddox (Biographer), Sohaila Rastan (CSO, RNID), Liz Robertson (University of Oxford), Vivienne Parry (Broadcaster) and Janet Thornton (European Bioinformatics Institute).
Heirloom recipients: Bianca Acevedo (Albert Einstein College of Medicine), Tracey Barrett (Birkbeck College), Edith Heard (Institut Curie), Emily Holmes (University of Oxford), Elizabeth Murchison (Wellcome Trust Sanger Institute), Georgina Ferry (Science Writer and Broadcaster), Marysia Placzek (University of Sheffield), Christiana Ruhrberg (UCL), Nicole Soranzo (Wellcome Trust Sanger Institute) and Sarah Teichmann (MRC LMB).
For information on past and future events contact