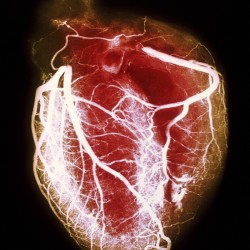 MRC Clinical Sciences Centre's Nitric Oxide Signalling Group in collaboration with Jane Mitchell from Imperial's National Heart and Lung Institute has identified why COX-2 inhibitors, a class of widely prescribed anti-inflammatories, may lead to increased risk of heart attacks and strokes.
The study, published in Circulation on 9 December 2014, shows for the first time that COX-2 inhibitors cause a rise in ADMA molecules that inhibit the synthesis of nitric oxide in humans and mice models.
Nitric oxide serves a vital function because it causes blood vessels to relax and dilate, which reduces blood pressure. But nitric oxide synthase inhibitors, which occur naturally in the body, prevent blood vessels from making nitric oxide, resulting in the constriction of blood vessels and driving up blood pressure and cardiovascular risk.
COX-2 inhibitors are widely prescribed as anti-inflammatories for rheumatoid arthritis and other acute and chronic pain conditions. However about ten years ago, studies found that people taking COX-2 inhibitors – such as Vioxx – as an anti-inflammatory had a higher risk of cardiovascular death, which explained hundreds of thousands of deaths worldwide. Since then, there has been intense interest in understanding why these drugs increase cardiovascular risk.
"Going forward, the pharmaceutical industry may be able to design better COX-2 inhibitors that don't increase blood pressure, retaining the very beneficial effects of COX-2 inhibitors as anti-inflammatories without having the cardiovascular side-effects," says James Leiper, who leads the CSC's Nitric Oxide Signalling Group.
"If we know what someone's circulating levels of these small molecule inhibitors of nitric oxide are, we may be able to identify people with high basal levels who are particularly at risk from COX-2 drugs," he says.
"In addition, for people where COX-2 inhibitors cause the constriction of blood vessels, we could give arginine – a naturally occurring amino acid from which nitric oxide is made – that might counteract the cardiovascular side-effects of COX-2 inhibitors," he adds.
This research builds on a study conducted by Leiper and his team last year. They identified another class of drugs – proton pump inhibitors – that also increased levels of nitric oxide inhibitors and caused vascular constriction. These proton pump inhibitor drugs, such as Omeprazole , are prescribed for people who have acid reflux. They are often prescribed together with COX-2 inhibitors, which "may be a double hit for a significant group of people," says Leiper.
James Leiper's and Jane Mitchell's groups are now conducting a study in humans to see if both drugs – COX-2 inhibitors and proton pump inhibitors – have an additive effect on blood pressure.
Ahmetaj-Shala, B, Kirkby, N, Knowles, R, Al'Yamani, M, Mazi, S, Wang, Z, T. Tucker, AT, MacKenzie, LS, Armstrong, PCJ, Nüsing, RM, Tomlinson, JAP, Warner, TD, Leiper, J & Mitchell, JA (2014): Evidence That Links Loss Of Cyclo-oxygenase-2 With Increased Asymmetric Dimethylarginine: Novel Explanation of Cardiovascular Side Effects Associated With Anti-inflammatory Drugs, Circulation 9 December 2014. doi: 10.1161/CIRCULATIONAHA.114.011591
See also: Imperial News
This work was supported by the Medical Research Council and Imperial College London. The Medical Research Council has been at the forefront of scientific discovery to improve human health. Founded in 1913 to tackle tuberculosis, the MRC now invests taxpayers' money in some of the best medical research in the world across every area of health. Twenty-nine MRC-funded researchers have won Nobel prizes in a wide range of disciplines, and MRC scientists have been behind such diverse discoveries as vitamins, the structure of DNA and the link between smoking and cancer, as well as achievements such as pioneering the use of randomised controlled trials, the invention of MRI scanning, and the development of a group of antibodies used in the making of some of the most successful drugs ever developed. Today, MRC-funded scientists tackle some of the greatest health problems facing humanity in the 21st century, from the rising tide of chronic diseases associated with ageing to the threats posed by rapidly mutating micro-organisms. www.mrc.ac.uk
Image Credit: Science Photo Library