This month we are celebrating the 'Humans of LMS' and highlighting the incredible and awesome things our colleagues get up to outside of work hours, on top of all that they are achieving at work. Today we want to highlight the mentoring that two of our Group Heads; Alexis Barr and Michelle Percharde, are doing to help disadvantaged teenagers with their education and university applications.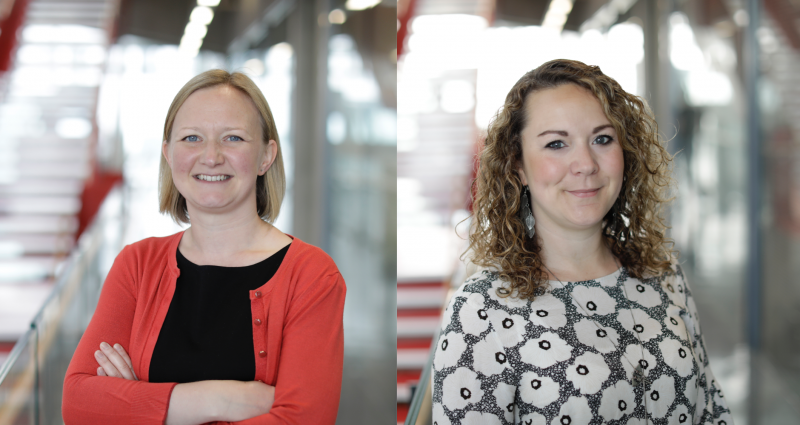 Alexis Barr leads our Cell Cycle Control group at the LMS by day, but by night she can be found volunteering with the Social Mobility Foundation (SMF). The SMF is a charity which aims to support young people from low-income background by providing opportunities and networks of support to 16-17 year olds looking to secure a university place but are unable to get that from their schools or families.
"The students I mentor are really bright and ambitious. They have good grades and want to go to university. But because no one else in their family has been to university, these students aren't sure about the access routes into higher education and perhaps more importantly, what they can do afterwards with their degrees. So, I volunteer to help mentor them through those decision and help with their university applications."
Michelle is the head of our Chromatin and Development research group, but also volunteers with the Refugee Support Network (RSN) alongside her day job. RSN is a charity that matches young asylum seekers and refugees with volunteer tutors to help them with their school education.
"I have tutored A-level students before which I found really rewarding. I have only recently started volunteering with RSN but I have been amazed by the stories that these young people have and how much dedication they have, so if I can help them that is exactly what I want to do."
Alexis has been working with SMF for 5 years now and we discussed more about what exactly this voluntary mentoring involves:
"The idea is that you support your mentee up until they reach university. Having said that, I am still in touch with my first mentee who is now in their final year of undergraduate. She wanted to stay in touch as they were unsure of the standards required for their university assessments, so I supported and guided them through that process for their first year. She also went on to do an industrial placement as part of her degree. She secured a really competitive placement at AstraZeneca in Cambridge. My mentee knew I had contacts there and I managed to help her get a room to stay for her time there too. However, in general, the bare minimum input required is a couple of emails each week. I usually help my mentees with what courses and which universities they are considering, whether they have been to open days, applied to any summer schools and so on. I help with a lot of personal statements and help them focus these to different careers. My mentees may have university application interviews, so I have done practice interviews with them on Skype or the phone. I have had mentees (and their friends) visit my lab for the day, and one even shadowed me for a week to get a feel for the lab experience. Importantly, I also provide a lot about what careers you can have with a science degree. Many think that if they do a science degree, the only option is research, so I want to talk them through the multitude of different careers that are open to someone with a science degree. But I do try and emphasise that you don't need to know what you want to do for the rest of your life at the age of 18. My mentees, because of their background, see university as a luxury and put a lot of pressure on themselves to make the most of it. I want to help them relax a little about the whole process."
Michelle's mentoring is a little bit different:
"I do a lot of homework help. A lot of my mentees will struggle at home or could be in danger of giving up on their education because they don't have the same support network or the stable environment that we are privileged to have. Through the RSN, they have 1 to 2 hours per week to talk to someone and work through the topics they are struggling with. One of my mentees had a place at university to study engineering accepted, but there was a pre-requisite that they complete a higher maths workbook. They came to me for sessions to help complete it. They were also able to come locally for that support which helped me fit tutoring around lab work. Sometimes I do have to work flexibly to fit in these commitments as some can't travel as far, but it all evens out in the end."
Alexis discussed her motivations for volunteering with SMF:
"I can sympathise a lot with the worries they have about going to university as I am from a family where my cousin and I were the first generation to go to university. But, they are at a much bigger disadvantage than I was because of the lack of support they get from their schools, so I want to help them and support them to make the right decisions about going to university and their path after that, including choosing courses for enjoyment and not just job prospects."
Michelle also discussed her reason for getting involved with RSN:
"For me, giving back to local communities is really important. I was really lucky with all my circumstances in that I could achieve all I wanted to, and that has motivated me to give back especially through teaching which I find so rewarding. I love the moment when you find the right way to explain something and you can see it 'click' in their mind. Knowing that it could be positively affecting someone's entire future is what makes it so fulfilling and rewarding."
You can get involved with these charities and their mentoring schemes too. Both the SMF and the RSN are always looking for more mentors. They are always short across all industries but are always looking for people in STEM fields. It is something anyone at the institute could get involved with whether you are a PhD student or a Group Head and all in between. If you are interested in finding out more or getting involved, please contact Alexis or Michelle, and check out the Social Mobility Foundation and the Refugee Support Network websites.
All this month we are sharing our first ever social media advent calendar called 'Humans of LMS'. Head over to our Twitter or Instagram and get to know some of our colleagues a little better by discovering what they get up to and have achieved outside of their day jobs.